T-Minus 9 Days: Today was supposed to be the day
If you remember correctly, today, September 19th, was our original projected opening date at the new theater. It would've been perfect -- opening on the weekend of our third anniversary -- but alas, it was not to be. Also, had I been more vigilant about writing daily posts, yesterday's post would've been T-Minus ZERO. Oh well. A one month delay is much better than a six month one. Right 2005 Dan?!
Our audio equipment was delivered today from Kansas City. After it was dropped off at the theater, I packed all the speakers onto my dad's flatbed trailer and drove them to an undisclosed storage location. On the way to the secret drop-off zone, we had a bit of a scare. Check it out: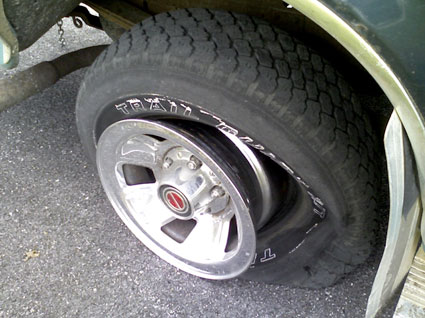 That was the scare!
Had I not been able to keep control of the vehicle, our speakers would've been scattered to the four winds. It was quite the ordeal. Long story short, the equipment is fine. That's about all the excitement I can handle for today.
On the theater front, painting has commenced, but we've found a leak on the ceiling of the lobby. More info to come!